Mixes
House Of Trax #9 mixed by Rushmore Ballroom, footwork, ghettotech mix by House Of Trax clubnight's resident Rushmore.
You should know House Of Trax by now. The Dalston-based party, focussing on booty, ballroom, footwork, ghettotech and electro put together by London DJs and producers Fools and Rushmore, will return this weekend to east London venue Birthdays. Having launched only at the beginning of 2012, they've run eight parties and had some seriously impressive line-ups; previous guests include New Jersey Ballroom producer DJ MikeQ, various Night Slugs affiliates like Jam City, L-vis 1990 and bossman Bok Bok, Fade To Mind's Kingdom, Physical Therapy and Michael Magnan of House of Ladosha's new collaboration Fatherhood, ghetto house and juke legend Traxman, as well as Tyree Cooper, who played one of the best sets we've ever seen by far.
This Saturday's House Of Trax #9 will be a Resident Special though. Here's the latest thumping, floor-appropriate, low-end rattling mix delivered by resident Rushmore. Now, lock in and werk out!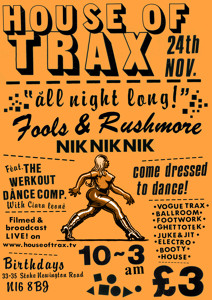 Related articles